Zoom on a wind farm in the forest : combining forestry and wind power potential
(02 October 2020)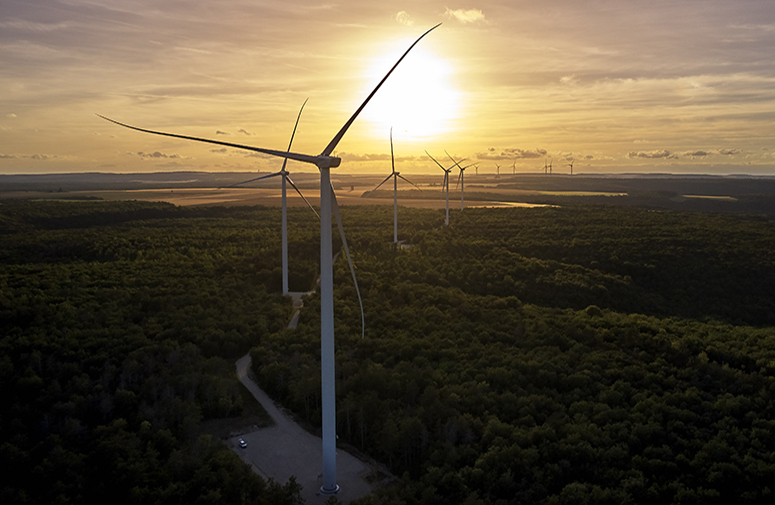 Velocita Energies has built 6 wind farms in the forest, the last one being the "Entre Tille et Venelle" wind farm, of which 13 wind turbines are located in forest massifs. Velocita has expertise in all the specificities of this type of project. In close collaboration with public and private forest managers, the location of the wind turbines of the "Entre Tille et Venelle" wind farm was chosen to minimize their impact on the forest environment and on forestry activity. Deforestation has been avoided as far as possible, specific environmental monitoring has been put in place, the wind farm's access paths follow the route of existing forest trails (with reinforcement or widening) and crane areas are used for timber depots. In 2021 an educational trail will also enable walkers to discover the specificities of the forest and the wind turbines.

In metropolitan France, forest areas represent 17 million hectares, i.e. 31% of the country. Forests in windy regions can become sites for wind energy production to complement forestry activity. They require little space and, just like the production of firewood, timber or industrial wood, the exploitation of wind energy is part of the development of forest resources.
The installation of wind turbines in our forest is compatible with our forestry activity. With their small footprint, they do not impact the forest balance and allow us to invest in the maintenance and development of our forest thanks to stable and guaranteed revenues throughout the operation of the wind farm. The improvement of the existing trails facilitates our routes, as well as those of the walkers. In a way, the wind farm has reinforced the environmental and economic role of our forest. Here, wind power and forest management are complementary.

The manager of the Groupement Forestier des Groises – wind farm "Entre Tille et Venelle".