Sale of the 1st Envision wind farm in France
(16 April 2019)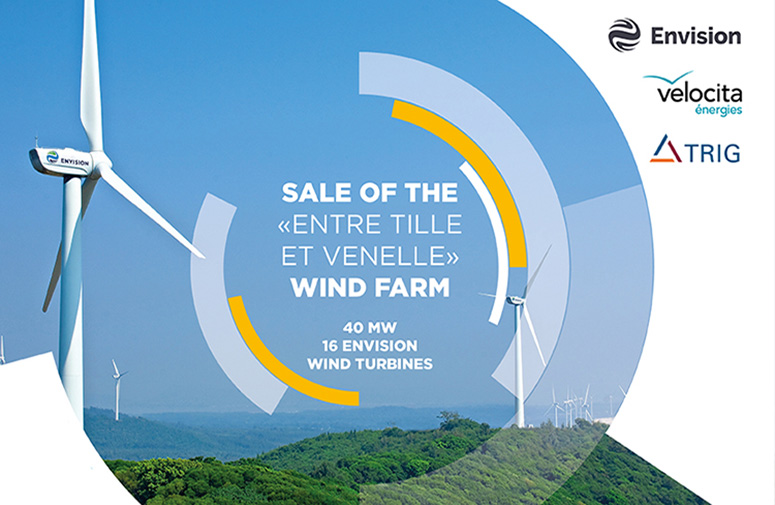 Envision Energy, Velocita Energies and TRIG (The Renewables Infrastructure Group Limited) have finalised the sales agreement for the "Entre Tille et Venelle" wind power project located in Côte d'Or (21).
This is the first wind farm in France where Envision turbines will be installed. Built by Velocita Energies, the "Entre Tille et Venelle" wind farm will produce 110 GWh per year and will supply more than 50,000 people with renewable energy. The EN131 2.5MW wind turbines, supplied by Envision, benefit from the latest technological advances developed by the group and are particularly appropriate for the wind speeds in the location. Currently under construction, this fleet of 16 turbines with a total capacity of 40 MW will be commissioned in 2020.

After obtaining the construction permits in May 2018, the site was put up for sale and the proposal of TRIG, an investment fund specialising in renewable energy, caught the attention of Envision. Eric Caradec, Managing Director of Velocita Energies, welcomes this operation:
We are very pleased to see the "Entre Tille et Venelle" wind farm join the assets of "The Renewables Infrastructure Group" (TRIG), a company that is vigilant regarding the quality of the projects it acquires. We consider the fact that the transaction is concluded even before the end of the works to be a mark of confidence in Velocita Energies and in the quality of the Envision turbines that will equip the site."
Velocita will remain present in the region as the sole interlocutor with local residents and communities throughout the life cycle of the wind farm, which it will operate and maintain for 25 years, as well as providing environmental, landscaping and acoustic monitoring.